The 2023 Subaru Love Promise Customer and Community Commitment Award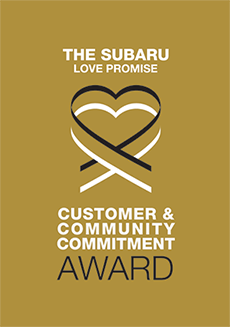 We've been nationally recognized for our dedication to our customers, our community, and the Subaru Love Promise.
We're honored to receive the 2023 Subaru Love Promise Customer and Community Commitment Award. This award nationally recognizes elite Subaru retailers who provide an exceptional customer experience at every interaction with Subaru. These retailers have also demonstrated an outstanding commitment to supporting passions and causes in their local communities in important areas such as the environment, community, health, education, and pets.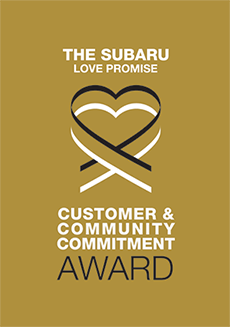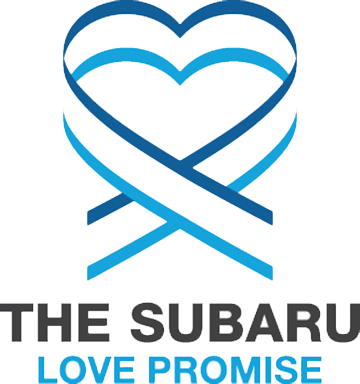 What is the Subaru Love Promise?
Subaru and our retailers believe in making the world a better place and the Subaru Love Promise is our vision of respecting all people. This is our commitment to show love and respect to our customers and to work to make a positive impact in the world.
How is Colonial Subaru dedicated locally to the Love Promise?
I believe in being more than a Subaru retailer. I believe in being part of my community. In setting an example. In building lifelong relationships. And in ensuring the love is felt not just by our customers, but by all. Not because it is good for business. Because it is the right thing to do.Our Love Promise can be seen in various partnerships with local charities and non-profits. We're grateful for the opportunity, not only to be a part of our community, but to serve it as well.
Ridgefield Operation Animal Rescue-ROAR
Save the Sound- CT Coastal Cleanup
The Women's Center of Greater Danbury, Dorothy Day Hospitality House , Meals on Wheels of Ridgefield , Family and Children's Aid
Love Promise Stories from Colonial Subaru
Subaru and Colonial Subaru believe in making a positive impact on the communities in which we live and work. We uphold that belief through our Love Promise Community Commitment. Every month, we select inspiring stories from customers and partners from around our area who strive to support our collective commitment and feature them here
"One Lap of New England" in my Subaru Crosstrek - Roger G
This adventure started with my idea to do a road trip with my son Ben. Since my client, Vredestein Tires was looking to promote their new Pinza all-terrain, go-anywhere tire, an idea was hatched; outfit my Subaru Crosstrek with some rugged off-road gear, fit it with the Pinzas, and do something memorable: a complete circumnavigation of New England covering 1,700 miles. We embarked on a five-day journey hitting back roads and interesting sites through the six northeastern states. This adventure even included a pit stop at Subaru of New England. The great folks at SNE headquarters gave us a behind the scenes tour of their incredible facility. It was like visiting the mother ship! When I began mapping out this road trip I looped in my local, trusted dealership, Colonial Subaru who offered to prep the car and install the tires and LP Adventure off-road gear. Their entire team was fantastic in helping us on this amazing journey. I am grateful for the expert installation, preparation and support. The sights, the roads, the food and the adventure were everything I could have hoped for. But spending those five days with my son is something I will truly cherish. Many thanks to the Beylounis, General Manager, Corey Henderson and Service guru, Darin Richey for going above and beyond to help make it all possible. Colonial Subaru rocks! https://youtu.be/CT1YnEhUkb8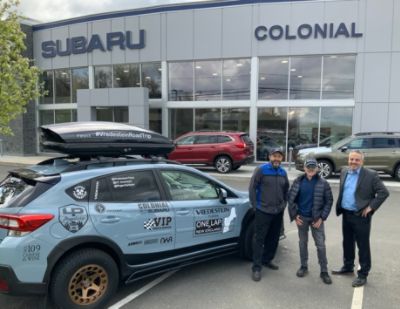 ---
Going Above and Beyond for Students! - Kristy Z
Colonial Subaru has generously adopted six Rogers Park Middle School teachers through the the Adopt-A-Classroom project this year! THANK YOU for adopting our art classes where the funds will help supplement our 2D & 3D art classes so that students can express themselves in many different ways. THANK YOU for adopting our engineering and robotics classes where the funds will help support our students learning about and utilizing the design process to deepen their understanding of applied mathematics as well as expose them to a wide array of possible STEM careers! THANK YOU for your supporting our media center in purchasing current, relevant books for students to read in multiple languages! THANK YOU for supporting our science teachers to purchase items to help us hold our first Science Fair! In addition to all of that, Colonial Subaru raised over $1,000 for us to purchase graphing calculators for our Algebra 1 students! Without their donation, we would not have been able to purchase these expensive and much needed calculators! THANK YOU for all you have done to support our middle school. We appreciate you and all who donated!!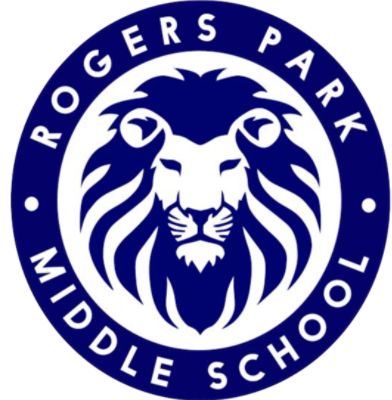 ---
Middle school students blend Subaru Loves Learning with Subaru Loves the Earth - Bernardo D
"I want to express my gratitude for the Adopt-a-Classroom donation from Colonial Subaru that was made to our Science Department. We're hoping to spread that donation across things like basic classroom supplies, science kits, and outdoor activity supplies as we finish building a greenhouse. Much thanks to Colonial Subaru." -Bernardo de Castro, 8th Grade Science Teacher, Rogers Park Middle School. The addition of this greenhouse will increase the Rogers Park Middle School students knowledge of plants, food and agriculture. The students also learn science and math by getting outside and digging in the garden, studying the shadows on a sundial and making a salad out of fresh-picked veggies. They gain knowledge that the garden provides a food chain, whereas invasive plants that the students removed, does not. Nearby there is an acidic bog that attracts salamanders, frogs and other amphibious creatures adding to the tiny ecosystem. The clearing of the invasive plants made way for a garden seating area with logs used as an outdoor classroom that can seat 25 students, providing invaluable academic and life lessons learned in the outdoors!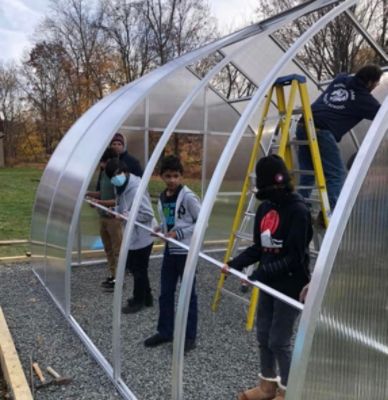 ---
CT Clean Up at Lake Kenosia Park - Mike J
My wife and I often look for volunteer opportunities on social media. It's a way for us to bond with our grandkids and help out at the same time. I saw a post from Subaru about picking up trash at a local park near a lake for a few hours, which sounded like a good one. About a week later I got an email from the dealership with the details of what was happening and asking for help, which was a nice reminder. We checked the weather and decided to go. When we got there the Colonial people gave us a free tee shirt, gloves and a bag, and asked us to keep track of what we collected. The grandkids loved checking off every little thing on the phone app, and started to make it like a game. We stayed pretty much longer than anyone else because we kept finding cigarette butts and little bits of trash with every step we took towards the car. After that we went to lunch and they were still picking up litter wherever they saw it. I read that I could write in about my experience and decided to do it. Not enough people talk about the good things, and this was a really well run outing that cleaned up a place that had a lot of litter. I will definitely do it again next year and am happy that Subaru offers this kind of volunteering.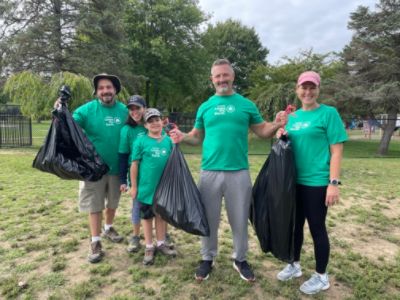 ---
Spreading Warmth to Patients! - Daniela V
We have partnered with Colonial Subaru to spread hope, love and warmth to patents at Norwalk Hospital. We were able to donate 80 beautiful blankets to the hospital to spread to their patients. Patients are in the infusion center for hours at a time and these blankets keep them warm as they are going through treatments. The staff at the hospital were very appreciative to be chosen for the blanket donation. Thank you Colonial Subaru!!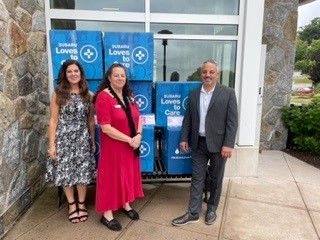 ---
Share the Love Contribution Supports Victims of Domestic Violence - Samantha F
The Subaru Share the Love Event proceeds for the second year in a row supported The Center's newly built and opened Patricia House for women and children fleeing violence. Just about a year ago, The Center was very excited for the momentous day when the keys to their new residential building would be handed over. Day after day, Patricia House received deliveries of linens, kitchen goods, toys, and more. Then, furniture arrived and artwork was hung. Patricia House was becoming a home. On one of the many days before the Ribbon Cutting event for Patricia House, Center staff and volunteers were unpacking boxes and waiting for one of the very last shipments of household goods. A delivery truck from Best Buy pulled up with a few televisions for our common areas. The Best Buy employees were shown the space and one of those employees was overwhelmed with emotion. Dylan (name changed for privacy) was amazed to hear that this new residential building was for The Center. He stopped one of the volunteers in the hallway and shared his remarkable story. Dylan was a survivor of domestic violence. About 10 years prior, he and his mother had fled from violence and escaped their home in the mid-West to Connecticut. At the time, they knew no one in the area. They were lucky to find The Center and its free counseling. They moved into The Center's emergency safe housing because they had nowhere else to turn. Dylan explained, "This place saved my life. Without the help of my counselor, I would have turned out to be a very different person." Dylan remembered his counselor Maura (who has since retired from The Center) and explained how she would play games with him and make him feel safe. Dylan was elated that The Center now had a new, safe, comfortable refuge to welcome other children and families fleeing danger. Colonial Subaru can be proud that this facility will help many more children like Dylan.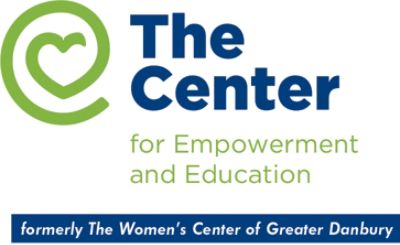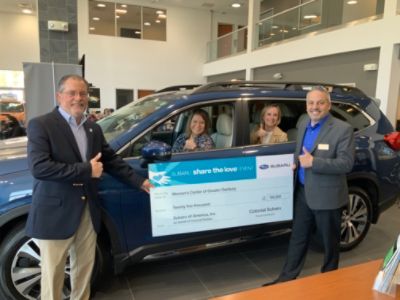 ---
The Center for Emopwerment and Education. - Ashley D
Your generosity proves that together we can make a difference in people's lives and continue the work necessary "to end the violence." Thank you so very much for your recent donation of a free oil change to one of our clients. Our special thanks to Erik for being so helpful. Our work is only possible because of contributions from compassionate individuals like you. All of us- our staff, volunteers, and clients- appreciate your generosity as we protect, teach, and empower in our mutual goal to eliminate interpersonal violence. For adult and child victims of domestic abuse and sexual violence. The center provides emergency shelter and support services, counseling and advocacy, crisis intervention, and for the community at large, community education, primary prevention and training. As you can see from our stationery, we have chosen a new name for our organization - The Center for Empowerment and Education - a name that we feel reflects our continuing commitment to supporting all members of our community as we enter a new stage of growth for our diverse programs and services. Once again, My sincere thanks, Ashley Dunn MS, MFT, NCC President and CEO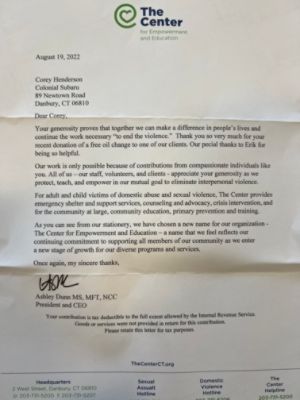 ---
"Take a Book,Leave a Book" Lending Library at Colonial Subaru - Ava B
I love books, love to read, and especially love to browse through bookstores. It's magical to me to look at the many different types of stories and make my selections. This is why the Colonial Subaru Book Drive was one of my favorite volunteer opportunities as a Love Promise Junior Ambassador. My first assignment was to pick up books donated by members of the community and bring them back to the dealership. The list of stops was really long and took us most of the day, and each stop had tons of books bagged and boxed up for us to take! Once all the books were back to Colonial the other volunteers and I spent several hours over the course of several weeks sorting and organizing. The idea was to make donation boxes of mixed books to bring to different community organizations like the Women's Shelter and Family and Children's Aid. As we worked hard on prepping the donations another idea came about…a lending library in the waiting area. As an avid reader and book enthusiast, I thought this concept was great! The customers would be able to choose a book and read it while waiting, take it home, and return it back when finished!! The option of "Take a book, Leave a book" also encouraged swapping. A bookshelf was set up and I was able to help choose which books I thought would be interesting and appealing for the customers to read. It was an instant hit! By the looks of the dwindling inventory, the service customers waiting for their cars seem to be using it regularly, and on a recent visit to the dealership I asked if I could restock it. I had so much fun choosing which books should be offered and even explained what I was doing to a few kids who were there at the time…they were excited to each take a book, and I took a new one home as well! Happy reading to all!
---
Catherine Violet Hubbard Foundation Hosts "Catherine's Butterfly Party" in her Memory - Madison C
As a Colonial Subaru Junior Ambassador I have had many great opportunities to volunteer at local events. One of my favorites was "Catherine's Butterfly Party" hosted by the Catherine Violet Hubbard Animal Sanctuary. It was a huge free family festival with a mega pet adoption! Catherine's Butterfly Party honors the birthday of Catherine Violet Hubbard and her love and compassion for all creatures large and small. Catherine was a first grader lost in the Sandy Hook tragedy, and her memory was being honored on her what would have been her 16th birthday. Ten thousand people and 25 pet rescue organizations attended, including ROAR (Ridgefield Operation for Animal Rescue) which is Colonial Subaru's "Loves Pets" partner shelter. There were cats, dogs, bunnies, parrots, and horses along with music, crafts, butterfly photo booths, food trucks and presentations about the wildlife around us and caring for our environment! My group was in charge of the Pet Hydration Station, which was a designated spot for all of the puppies to stop and take a cool drink. It was a hot day and a huge hit! We also handed out dog treats to hundreds of people who stopped by the tent we shared with ROAR. It was a really heartwarming experience and and such a feel good festive day! I am so grateful to Colonial Subaru for providing my friends and I these type of community service opportunities through the Love Promise program!
---
COLONIAL COUPLE PLANTS TREES ON EARTH DAY - Lilly K
I have always been an environmentally conscious person actively participating in community service. I have traveled to Peru, Costa Rica, Thailand and Indonesia volunteering my services to various missions. I subscribe to the philosophy that it is my responsibility to leave wherever I go better than I found it. My fiancé and I are both part of the Colonial Subaru team; in addition to being a friendly and overall great place to work, they support many important causes through the Subaru Love Promises. This spring in honor of Earth Day, our General Manager at Colonial doled out more than 100 sapling pine trees to anyone who wanted them. Cole and I jumped at the opportunity to plant a few at our new home! Subaru Loves the Earth is a movement very near and dear to my heart, and being able to mark the beginning of our life together and watch the growth of a pine tree along with the growth of our marriage and future family is magical to me! We feel very fortunate to be employed by such a socially and environmentally conscious dealership.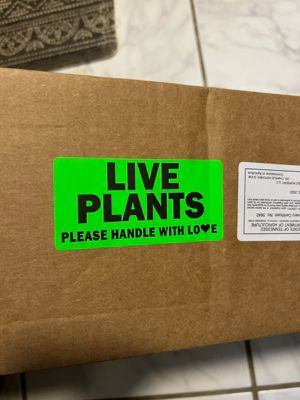 ---