The 2021 Subaru Love Promise Customer and Community Commitment Award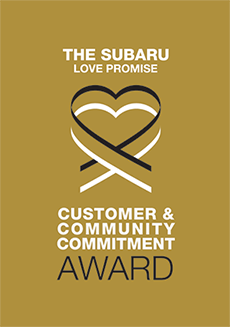 We've been nationally recognized for our dedication to our customers, our community, and the Subaru Love Promise.
We're honored to receive the 2021 Subaru Love Promise Customer and Community Commitment Award. This award nationally recognizes elite Subaru retailers who provide an exceptional customer experience at every interaction with Subaru. These retailers have also demonstrated an outstanding commitment to supporting passions and causes in their local communities in important areas such as the environment, community, health, education, and pets.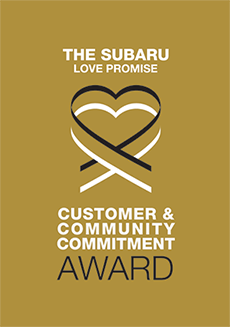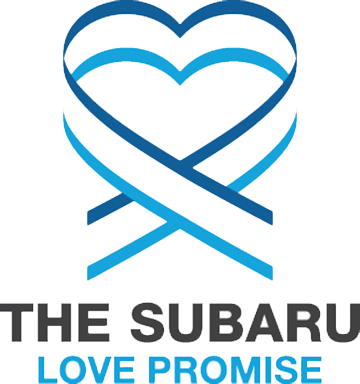 What is the Subaru Love Promise?
Subaru and our retailers believe in making the world a better place and the Subaru Love Promise is our vision of respecting all people. This is our commitment to show love and respect to our customers and to work to make a positive impact in the world.
How is Colonial Subaru dedicated locally to the Love Promise?
I believe in being more than a Subaru retailer. I believe in being part of my community. In setting an example. In building lifelong relationships. And in ensuring the love is felt not just by our customers, but by all. Not because it is good for business. Because it is the right thing to do.Our Love Promise can be seen in various partnerships with local charities and non-profits. We're grateful for the opportunity, not only to be a part of our community, but to serve it as well.
Ridgefield Operation Animal Rescue-ROAR
Save the Sound- CT Coastal Cleanup
The Women's Center of Greater Danbury, Dorothy Day Hospitality House , Meals on Wheels of Ridgefield , Family and Children's Aid
Love Promise Stories from Colonial Subaru
Subaru and Colonial Subaru believe in making a positive impact on the communities in which we live and work. We uphold that belief through our Love Promise Community Commitment. Every month, we select inspiring stories from customers and partners from around our area who strive to support our collective commitment and feature them here
Subaru's "Feeding America" aids CT Communities - Monica O
With more than 545,000 CT residents struggling with food insecurity, it now means more than ever to have local businesses come together and donate to Connecticut Food Bank/Foodshare. These donations are essential in assisting soup kitchens, food pantries and shelters in our communities. Through Subaru of America's national program "Feeding America," Colonial Subaru helped make a difference! Their "Fill the Forester" food drive resulted in over 300 pounds of grocery items to help fight hunger in Connecticut. The Colonial team took it one step further with an awesome event based on March Mania. For every new Subaru sold during the month of March, each owner was invited to take 10 shots at the basketball hoop in their showroom. Colonial donated $1 for every basket made, and presented an additional $500 to the cause! These important donations help people from all walks of life- children, working parents, people living with disabilities, and more. Thank you to the Colonial Subaru team for this wonderful contribution to those who don't have enough to eat every day. We are very grateful for your support!
---
Share the Love aids Transition from Hats to Hope - Samantha F
As a 2021 Colonial Subaru "Share the Love" hometown charity recipient, the Women's Center of Greater Danbury would like to express our gratitude to the dealership and Subaru of America for their generous donation to the "Speaking Up Speaking Out" campaign. The Women's Center is proud to reawaken the former home of the bustling Mallory Hat Factory, a historical site in downtown Danbury. The City of Danbury, also where Colonial Subaru is located, was a tremendous help in our search for a suitable property and a partner throughout the project. After the Mallory Hat factory closed its doors in 1987, the city assumed ownership. This once thriving site, and one of the main reasons Danbury was considered the Hat Capitol of the world, has been vacant for decades. It is exciting that that this site will once again meet the needs of the community - in a brand new and important way. Remediation of the property was completed in the fall of 2020 and construction of the Women Center's 20-bed residential facility for women and children in transition has been underway since. Upon completion, the nearly three-acre campus will include a walking path and a playground. The project is expected to be completed in fall 2021 and the Center looks forward to a ribbon-cutting event where Colonial Subaru will again be acknowledged for their support. The Women's Center has grown into a multi-faceted social service organization, serving the area's most vulnerable men and women, children and families while educating the community-at-large to create systemic change. This new residential facility will better and more efficiently serve the women and children in transition well into the future. The Women's Center thanks Colonial Subaru for being a part of this journey!
---
Subaru Gets Aboard the Ability Beyond Meal Train - Michele S
Since 2011, Ability Beyond has benefited from a strong and charitable partnership with Colonial Subaru and the Beylouni family. With their generous support through events such as "Share the Love," we have continued to advance our mission of empowering people with developmental disabilities who live and work in our community. During this unprecedented year, we have faced challenges brought on by the global pandemic and have had to make important changes to deal with them. The Leir Pavilion at our Bethel Headquarters now serves as Ability Beyond's recovery hub for adults in our residential program who are COVID-19 positive or have been contact traced, and need to be isolated from the other people we serve. This temporary space was constructed in an effort to flatten the curve and keep other residents from being exposed. Ability Beyond staff members have been called upon to work around the clock in 12-hour shifts to care for those in isolation. In an expression of support and gratitude, a "Meal Train" donation plan of breakfast, lunch and dinner offerings has been set up to feed the members of the Hub team over the next several months. We are so grateful to the Beylouni family and the Colonial Subaru team for volunteering. "Giving Tuesday" kicked off a week's worth of both homemade and restaurant meals prepared and delivered to the staff at our Hub. These contributions of delicious food were greatly enjoyed and mean so much to the frontline workers. Thank you to all for your partnership and thoughtfulness!
---
Colonial Customer Picks Up a Car and a Puppy! - Sarah R
The live pet adoption event that ROAR held at the Colonial Subaru dealership in October was a great success, and we are so thankful you asked us to be a part of it! Your whole team was beyond amazing and so helpful! Not only did we receive applications on animals that were at the event, but it also drove people go visit the shelter to meet all our amazing animals. One of the highlights was the story of "BUG," an adorable and feisty puppy who stole the hearts of a family who was at Colonial that day to pick up the car they purchased. They saw the balloons and the festivities and walked over, took one look and said "That's our dog!" The crazy part is that since so many applications came in for the puppies that day, we assumed Bug had multiple applications. After the family asked about Bug, we looked and didn't see a single application on him! They submitted the paperwork for Bug ‪at 3pm‬, which was the last application we received that day. It truly was meant to be that this family (who was not even there for the event) got to add sweet Bug to their home! I was so happy for this adoption, as well as all the others that awesome day. We at ROAR are so grateful for your partnership during the Subaru Loves Pets month, and for opening up your "home" so that families like the one who adopted Bug, and many more were able to find their forever homes.
---
Dealership Helps Community Families in Need - Terri E
The Colonial Subaru dealership recently held a grocery gift card collection to benefit Family and Children's Aid as part of the love promise commitment to give back to the community. Due to COVID-19 and the economic downturn, many families we serve are suffering economic stress and food insecurity. Food banks are stretched and there are currently more people in need in the Danbury area than there are resources. In the winter, utility costs go up and families often have to choose between paying bills and having sufficient food for their kids. Grocery gift cards will help our clients by alleviating some of the stress in the household. Thank you to Colonial Subaru for their generosity!
---
Ability Beyond's Recovery Hub Flattens Curve - Tracey B
With the onset of COVID-19, it became evident that adults with special needs are a vulnerable population. With the help of donations from Subaru Love Promise, Ability Beyond was able to kick into high gear and set up a Recovery Hub in their Bethel, CT location. The Hub allows for Ability Beyond residents who test positive, or presumptive positive, to remain safely and comfortably quarantined as they recover. This aids in stopping the spread of the virus, keeping non-positive residents safe. Staff has been incredible, working around the clock, and residents like Chad have been able to safely return to their homes happy and healthy.
---
Colonial Subaru and Women's Center Share the Love - Samantha F
November 19th 2020, marked the start of the thirteenth year of the National Subaru "Share the Love" Event, and the inaugural year as The Women's Center of Greater Danbury and Colonial Subaru's charitable partnership. The Women's Center is a safe haven and sole provider of services to victims of domestic and sexual violence in the Northern Fairfield and Southern Litchfield County areas and serves over 30,000 individuals from our area communities each year. Because of supporters like Colonial Subaru, the Women's Center is able to provide the comprehensive professional services that they do and help survivors thrive. This is the story of a residential family, forced to flee from domestic violence in their home, who were able to transition out of shelter after many months despite the many challenges they faced. The mother, a legal immigrant to the United States, spoke very little English upon her arrival at the facility with her three very young children. She had no family or friends that she could rely on as a support system within the area. Because of the language barrier, she had a difficult time finding a job. It was also difficult for her to find work, due to the lack of available and affordable childcare for her not yet school-aged children. The first months were difficult for this mother as she battled depression and a tendency to isolate herself. Staff provided on-going counseling, support and encouragement in the safety of the Women's Center's specialized domestic violence shelter. Slowly, she put her trust in the staff and worked hard every day to better her situation and become independent. In time, she became the resident that others consulted or looked to for guidance. The family quickly became house "favorites" due to their warm and loving personalities. While she was in shelter, the Women's Center helped her to obtain local and state services for herself and her children. She began taking ESL classes to improve her English and after two semesters she mastered the language well enough that interpreters were rarely ever needed again. Women's Center staff advocated for her through the court system to obtain a protective order and supported her through filing for a divorce and for custody of her children. They also helped her to look for a place for her and her children to live. Thanks to the ESL classes and Center staff modeling life skills and accompanying her to many of her appointments early on, she was able to handle many of her appointments in the community on her own by the end of her time at the residence. Staff accompanied her to the final divorce and custody hearing to ensure that it was completed in her best interests. Finally, a beautiful apartment was found for the family within walking distance of resources and services to meet their needs. The Women's Center coordinated donations within the community and was able to completely furnish the family's new apartment. Before leaving, the family expressed their sadness to be leaving the shelter staff, but also, that they were very happy and excited to be moving into their new home. Thank you Colonial Subaru for selecting us as a recipient of the Share the Love initiative, and helping to ensure the Women's Center is there ‪24/7‬, 365 days a year!
---
"Subaru Loves Pets" Helps ROAR Pay it Forward - Kerry D
The partnership between Ridgefield Operation for Animal Rescue-(ROAR) and Colonial Subaru was magnificent! Besides finding homes for so many cats and dogs over the month of October, we got to learn about so many other community activities the dealership, the Beylouni family, and their employees are involved in. That was learned from the interview chat we did on our Animal Rescue ROAR-Ridgefield television show. It was a pleasure to hear about the community programs that the Colonial staff are involved in, and that many of the events they participate in and donate to are hands-on. Every adoption is cherished and celebrated, but the "Subaru Loves Pets" challenge of 31 adoptions for October made it even more fun to share the weekly totals with the shelter staff and volunteers as we got closer and closer to that goal. We were blessed to still have the opportunity of "love at first sight" or "feel an instant bond" for the people adopting a pet during these unique COVID times. We were able to design ways to organize ourselves with safety protocols and hold a live adoption event with the Colonial Subaru dealership as a venue, which helped tremendously due to the amount of space that was available. It was a great day and a wonderful success! ROAR was given $100 for every pet adopted in the month of October by Colonial Subaru and Subaru of America. We not only hit that goal but exceeded it! The $3100 total makes a significant impact because each $100 will be able to "pay it forward" to provide a well pet exam and up to 3 vaccines/tests (or one spay/neutering for one dog/cat) for a future cat or dog we take into the ROAR family. Therefore, those funds will help at least another 31 cats and dogs! Thank you to Colonial Subaru for including us in the Subaru Loves Pets month and helping us find homes for so many wonderful and deserving animals!
---
Colonial Joins Save the Sound in CT Cleanup Event - Annalisa P
Thank you Colonial Subaru for participating in the "Subaru Loves the Earth" Connecticut Cleanup event this year with Save the Sound! We appreciate the great turn out your dealership had despite the pandemic and your clean up really made a big difference in keeping Lake Kenosia of Danbury and the surrounding park clean. The total amount of trash collected over nine cleanups was over 800 pounds! Cigarette butts, tiny plastic pieces, and food wrappers topped the list of the most common items picked up. PPE was a new category for this year, and volunteers picked up a total of 63 gloves and masks. As another example, it takes 450 years for a plastic beverage bottle to decompose, and your team collected 45!! Save the Sound is grateful for the support of your dealership, the volunteers from the community, and the local Girl Scout troop who joined in. You all made this cleanup event so successful!
---
Colonial Subaru Supports Annual SafeWalk - Mackenzie C
As a proud Subaru owner, I was honored to join Colonial Subaru's SafeWalk team, "Colonial Cruisers," in walking to raise awareness to end domestic violence in our community. By registering through the dealership, I was able to secure sponsorship donations and help the Women's Center of Greater Danbury in their mission. This 4K walk is an event I have participated in several times before, alongside hundreds of others at the Danbury Fair Mall. This year, due to Covid 19, it was virtual, where team members would walk, run or bike in small groups anytime over the designated weekend. On Saturday, October 3rd, my group, which consisted of three generations of women, walked the four miles in an afternoon of solidarity with a true sense of pride in the cause we were supporting. I am grateful to the Women's Center for the essential work they do, providing free programs and services to our area, and continuing this wonderful event despite the pandemic. Many thanks to Colonial Subaru for extending the invitation and opportunity to be a part of their team and contribute in a meaningful way!
---