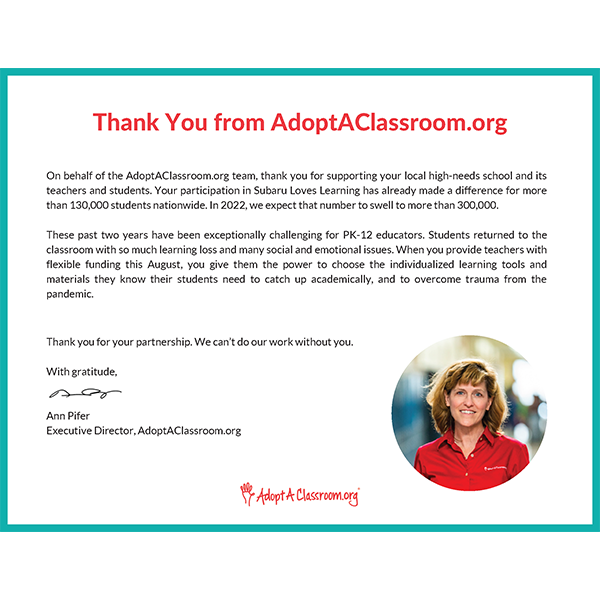 Helping Students and Schools In Need
Subaru of America, Inc. is proud to announce that as part of our Love Promise commitment to make learning more accessible, we are partnering with AdoptAClassroom.org as our new Subaru Loves Learning partner.Inadequate classroom resources threaten the success of schools. In fact, 92 percent of classrooms have students whose families cannot afford to purchase any school supplies for their children. 
Through the partnership with AdoptAClassroom.org, Subaru and our retailers will help supply classrooms across the country with the school supplies vital to enhancing education for students nationwide. Adopting classrooms through Subaru Loves Learning is just one of the ways we are doing even more this year to make a difference.
Donate Today
We Love Hearing From Our Adopted Classroom
"As principal of Rogers Park Middle School, I am so thankful to Colonial Subaru for the Adopt-A-Classroom.org nomination for our school. The staff of RPMS is also very grateful to receive this generous donation. We strive to bring authentic experiences to our students through project-based learning and science. With very limited funds, we rely on the generosity of our community to help support these important endeavors. The $3000 donation will allow our 7th and 8th grade science teachers, and there are 6 of them, to purchase materials and tools to support our students' real-world science experiences. For example, we're going to be purchasing tools to collect and analyze air quality data in our community and investigate where it comes from and how to prevent and remediate it. Thank you to the dealership and community for the wonderful notes of appreciation to our teachers and the overall support and partnership of everyone involved with the Subaru Loves Learning program - it is much appreciated!" 
-Kristy Z